I recently discovered Suki Pure Organic Skin Care when they generously sent me some goodies to try.  Owner and founder Suki Kramer started her line of organic products for skin, hair, and body after having tried countless different companies,  hoping they would help with her own skin problems. She became so frustrated by the lack of results promised by so many skincare lines that she began experimenting with her own herbal oils and tinctures. The results were amazing and the Suki line was born.  Suki is 100% synthetic-free and gentle on the skin and uses only organic & cruelty-free ingredients, as well as eco-friendly packaging. The line includes pure care for skin, hair, body and even makeup. I  am a strong advocate of organic skincare and I have to say that Suki Kramer's delicious line of pure natural products are some of the best I've tried and my skin is very happy 🙂 I love all of Suki's products but below are a few of my favorites that I am now officially addicted to.
Concentrated Nourishing Toner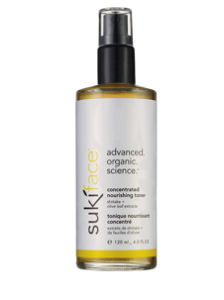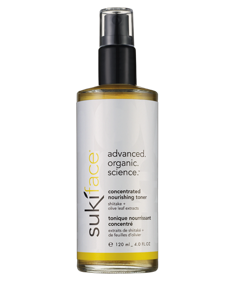 This is so refreshing and soothing! A super potent antioxidant-rich, fortifying tincture rich with green tea, olive leaf, and organic botanicals. It helps fight free radicals, signs of premature aging, and preps the skin. I love the way it smells and like to sweep it over my face after removing my makeup to remove all traces of the day.
Bio-C 10% formula face serum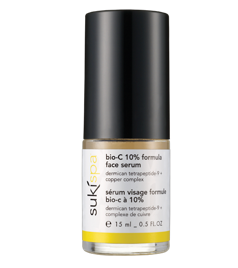 A highly concentrated, oil-free serum specifically designed as a super antioxidant to support collagen production & help prevent future signs of aging. It accelerates collagen & elastin production in 3 days (love that) and helps to fight early signs of aging with ingredients like copperpolypeptide protein complex to diminish fine lines & wrinkles and resveratrol white grapeseed for environmental damage. This serum is a winner in helping reverse the signs of aging on the skin.  I smooth it on before applying my makeup to smooth and plump the skin.
Pure Facial Moisture-Nourishing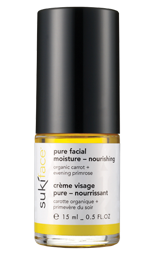 My skin is super dry so this soothing facial oil really helped me.  It's packed with beta carotene / pro-vitamin A from organic carrots, omega oils & fatty acids like organic evening primrose and organic rosehip and it restores, hydrates, promotes elasticity, fights free radicals and signs of aging and stress. I apply it generously at night and my skin feels totally rejuvenated when I wake up.
Tinted Active Moisturizer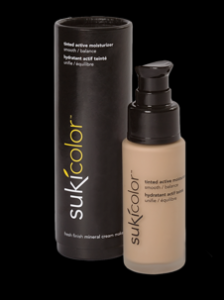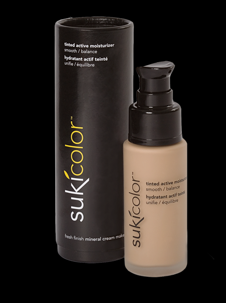 I love this gorgeous Tinted Moisturizer! I don't like to wear alot of foundation and this gives me just a beautiful flawless finish where I need it, plus I feel great about putting it on my skin. It's soothing ingrediants of  White Willow, Organic Comfrey, Jojoba Oil, and Organic Rose extract work to fight free radicals and relieve redness and irritation and boost Collagen.
All of Suki's products smell divine and feel wonderful and are gentle enough to use on the most fragile and sensitive skin (even babies). I love that every product is made fresh by hand to eliminate carbon output and packaged in environmentally friendly glass instead of plastic so no toxins leak into the ingrediants. I'm so glad to have discovered Suki!